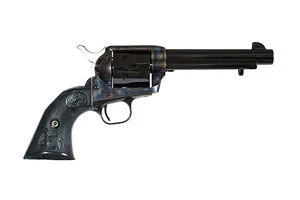 Colt Single Action Army P2870
Brand New
About Colt Single Action Army P2870
The original Cavalry standard Single Action Army came with a 7 ½" barrel, which is still available today. Colt revolvers also can be purchased in two other standards barrel lengths: 4 ¾" and 5 ½" (contact the Colt Custom Gun Shop to learn more about additional custom options).
Colt Single Action Army P2870 For Sale
Colt Single Action Army P2870 Comparisons
Colt Single Action Army P2870 Reviews Edward Y
November 15, 2018
Edward Y on
Gun in perfect condition. Beautiful piece of history. Great job by buds as usual. Perfect fit to your hand and just plain fun to own and shoot. Perfect is a word that truly fits this gun. Just like the Colt 1911 it is near impossible to improve this gun.
Colt Single Action Army P2870 Variations
Colt Single Action Army P2870 Questions and Answers
Colt Single Action Army P2870 Price History