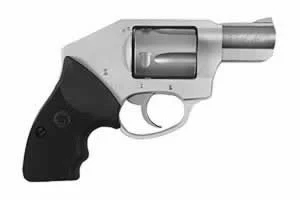 Charter Arms Off Duty 53711
Brand New
About Charter Arms Off Duty 53711
The responsibility of personal protection doesnt have to weigh you down. Whether your work dictates that you carry lethal force or you carry a revolver for peace of mindthe Undercover Lite provides impressive stopping power while weighing a mere 12 oz. Constructed of tough aircraft-grade aluminum and steel, the Undercover Lite offers rugged reliability and comfort. This ultra-lightweight 5-shot .38 Special features a 2 barrel, fixed sights and double-action only hammer.
Charter Arms Off Duty 53711 For Sale
Detailed Review
The Charter Arms Off Duty 53711 is a lightweight, compact revolver that is perfect for concealed carry. It has a 2-inch barrel and a 5-round capacity. The gun weighs just 12 ounces, making it easy to carry all day without causing discomfort or fatigue.
The Off Duty 53711 is constructed with high-quality materials, including aircraft-grade aluminum and stainless steel. The frame and cylinder are made of aluminum, which helps keep the weight down, while the barrel and other critical components are made of stainless steel for durability and corrosion resistance.
One of the unique features of this revolver is its double-action-only (DAO) trigger mechanism. This means that the trigger performs only one function: firing the gun. There is no separate hammer spur or safety lever to manipulate, which simplifies operation and reduces the risk of accidental discharge.
The Off Duty 53711 also has a fixed front sight and a rear sight that is adjustable for windage and elevation. This allows for quick and accurate aiming, even in low light conditions.
In terms of performance, the Off Duty 53711 is a reliable and accurate firearm. It has a smooth trigger pull that requires about 9 pounds of force, which is consistent with other DAO revolvers. The gun's small size and light weight make it easy to shoot accurately at close range, though it may require some practice to become proficient at longer distances.
Overall, the Charter Arms Off Duty 53711 is an excellent choice for those in need of a reliable and compact revolver for concealed carry. Its lightweight design, durable construction, and simple operation make it a great option for beginners and experienced shooters alike.
Charter Arms Off Duty 53711 Comparisons
Charter Arms Off Duty 53711 Reviews William R
December 3, 2018
William R on
This is my third Charter Arms revolver I've bought recently. I've become a bit of a fan. I once owned a Smith & Wesson model 640 Centennial hammerless revolver but I never did warm up to it. It was too heavy in my pocket, too light for a .357 and too smal
Charter Arms Off Duty 53711 Variations
Charter Arms Off Duty 53711 Questions and Answers
Charter Arms Off Duty 53711 Price History