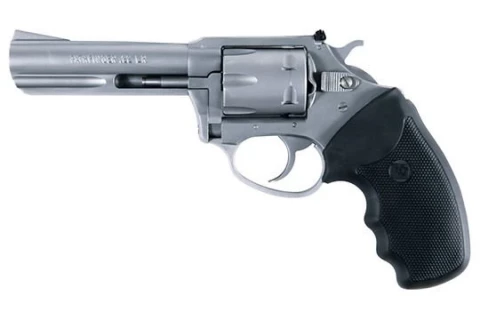 Charter Arms Pathfinder 72242
Brand New
About Charter Arms Pathfinder 72242
Charter's verstile Pathfinder, available in 22 LR, .22 Magnum is a great introductory revolver for the novice shooter or anyone who needs a low recoil revolver. It has the look, feel and weight of a higher-caliber revolver, allowing you to gain proficiency while using relatively inexpensive .22 ammo.
Charter Arms Pathfinder 72242 For Sale
Specifications
| | |
| --- | --- |
| Brand | Charter Arms |
| Category | Revolver |
| Weight | 1.18 oz |
| Action | Double Action |
| Caliber | .22 LR |
| Capacity | 6 |
| Finish | Stainless Steel |
| Gun Type | Revolver |
| Sights | Adjustable |
Charter Arms Pathfinder 72242 Comparisons
Charter Arms Pathfinder 72242 Reviews george d l
October 16, 2019
poor quality firearm, tolerances between the cylinder and the forcing cone are too tight. The gun will lock up as soon as it gets hot. You get what you pay for. First time at the range with this today. Night tight group, mostly, 24 rounds, 1 misfire. Ejector rod was tight at first when pushing to eject shells but seems to be fine after the session was over, rnHitting low on the target, my friend hitting low als The order went smoothly and delivery was prompt. It's a very nice gun but it locked up after 18 rounds. I immediately called Charter Arms and after a couple of questions, the said they were sending me a return box and once they got the gun, they would h Barrett C
December 28, 2018
12/28/18 I purchased this .22lr target pathfinder for plinking at the range. It looks and feels great, very happy with it until I pulled the trigger! Blam! Lead shrapnel spit all over the left side of my face. I fired again and flinched, as more lead was Leonard T S
January 30, 2018
I purchased a Charter Arms 38sp Undercover back in the 70's and was always very happy with it. So I decided to take a chance (I have read a lot of negatives about Charter Arms) on a Charter Arms Pathfinder 22, and like the Undercover I am very happy with BARRY A
November 27, 2017
My wife loves this revolver. after receiving my Charter Arms .22 i put 150 rounds for a function test. Using Federal .22lr (not the most reliable) I found the single action trigger to be quite good. The double action was a little gritty. I have now put about 1000 rounds through the r The Charter Arms, Target Pathfinder .22 with 4" barrel is a great little revolver. Jerrold T
January 14, 2017
Jerrold T on
Bud's Gun Store service was excellent. A great no hassle experience with next day receipt of the gun at my dealer's store. The Charter Arms Pathfinder however, has a problem that will require sending it back to the factory to get the hand repaired. I ha Daniel F
January 14, 2017
Bought it for the long double action to practice trigger control. Serves that purpose well but nothing more. Very unrefined and feels unfinished. I like to buy American made but this is an example of why we opt for foreign. ok...............trigger would not reset.........sent back to charter to fix it......you have to pay shipping one way but they do fix stuff and fast........friendly on the phone also.....2nd charter i ve had to send back......if you get a mass produced pr Stanley Brown
January 24, 2014
I have owned a lot of revolvers and I can safely say this is the worst, as far as the looks and feel of the pistol I love it that is what sold me on it. the real problem is you could not hit a barn with it, it is horrible. a little to heavy but , I could
Charter Arms Pathfinder 72242 Variations
Charter Arms Pathfinder 72242 Questions and Answers
Charter Arms Pathfinder 72242 Price History