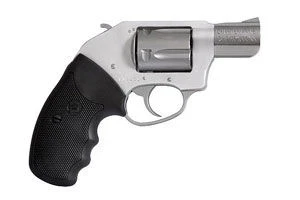 Charter Arms On Duty
Brand New
About Charter Arms On Duty
The On Duty combines the qualities of the Undercover Lite and the Off Duty but with a convenient twista unique hammer block design. This allows single-action and double-action operations while minimizing the risk of snagging the hammer on your clothing. Constructed of heat-treated aluminum, this 5-shot .38 Special features a 2 barrel and weighs only 12 oz. Comfortable and versatile the On Duty is a great choice for conceal and carry use.
Charter Arms On Duty For Sale
Charter Arms On Duty Comparisons
Charter Arms On Duty Reviews Bill on
Great price, good looking and feels very good. It also is very smooth and accurate. Love it. Top quality revolver. Lightweight and well made. Just what I expected from Charter Arms. Very light!!! Very concealable!!! Amazingly great in the hand. The original grips are great but I got the smaller conceal grip and that works great too. It really does lock up fast and solid like the promotions say. It works in your pocket without snaggin Scott Hildebrand
May 13, 2013
I have carried my Charter Arms On Duty on and off as a back-up gun for about a year. It is very concealable, and the grips really do deaden the recoil when shooting. I find that I practice more with this gun because it is so comfortable to shoot, which is
Charter Arms On Duty Variations
Charter Arms On Duty Questions and Answers
Charter Arms On Duty Price History