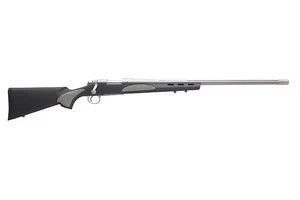 Remington 700 Varmint SF
Brand New
About Remington 700 Varmint SF
Twenty six inch heavy-contour barrel is fluted for weight reduction while maintaining rigidity and rapid cooling. Concave dish crown protects the rifling lands and promotes tack-driving bullet flight. X-Mark Pro Trigger. Synthetic stock has overmolded panels for a sure grip and a vented beavertail forend that keeps air flowing around the barrel. Dual front swivel studs for sling and bipod.
Remington 700 Varmint SF For Sale
Remington 700 Varmint SF Comparisons
Remington 700 Varmint SF Reviews justin c
January 14, 2017
justin c on
I bought this rifle wanting the barreled action. It looks and feels good so far but I am not to pleased with the stock or the trigger and both will be replaced. I have high hopes for it after i get it in an HS stock an put a timney in it. I wish remington I liked everything about this rifle when I was researching what to buy. Bud's had it for a great price so i did it. Sadly once I received the rifle and got it ready for the range, I found out that every round was sticking the bolt closed. Once I got a fla Gregory B
November 28, 2016
GREAT rifle at a GREAT price!! This is my first hunting rifle. After bore sighting I was able to dial in the scope very easily. Looking forward to taking it out again!!
Remington 700 Varmint SF Variations
Remington 700 Varmint SF Questions and Answers
Remington 700 Varmint SF Price History