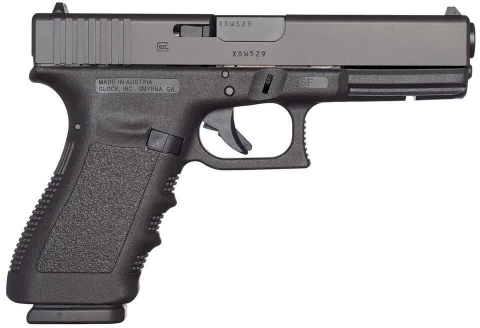 Glock 20 Gen 3 PF2050203
Brand New
About Glock 20 Gen 3 PF2050203
The GLOCK 20SF, in 10mm AUTO, provides nothing short of massive firepower. The use of GLOCK hi-tech polymer considerably reduces felt recoil. With muzzle energy of 550 ft/lbs and a magazine capacity of 15 rounds, this 10mm is your reliable companion on every hunt.
Glock 20 Gen 3 PF2050203 For Sale
Specifications
| | |
| --- | --- |
| Category | Other Pistol |
| Action | Safe Action |
| Caliber | 10mm Auto |
| Capacity | 15+1 |
| Finish | Black |
| Sights | Fixed |
| Barrel Length | 4.60" |
| Gun Type | Pistol |
Glock 20 Gen 3 PF2050203 Comparisons
Glock 20 Gen 3 PF2050203 Reviews Very disappointed... After watching countless reviews on YouTube on how the SF was considerably smaller in hand. I ordered from Buds. I got a gen 3 SF while I was waiting on background to go through at my local FFL I grabbed a gen 4 out of case looked at James M on
The Glock 20 10mm is the best 10mm on the market. Great Product, at a great price. This was my first Buds purchase, but it will not be my last. Donald M
November 13, 2015
Wow! Budsguns their service and prices are 2nd to none. Had my 10 mm glock in 3 days. Awesome ! The gun feels terrible in hand and trigger sucks compared to my Smith & Wesson PRO , also purchased from buds guns. Going to fix trigger with help from glock t This is my first Glock. WOW! This is a great firearm. I have all the others but only this one in 10 mm. I retired my 1911 .45 and replaced it with this. After taming this stallion I have more control and with the power I'm sure to get a Michigan buck. May Great gun and a great price Bud's is a great place to buy firearms and parts from,AAAA+ Great shooting 10mm. Love the feel in my hand. Transaction was handled perfectly by Bud's and my FFL. Thanks Guys. Very nice and handle nicely Eugene B
February 26, 2014
Glock 20 SF came in new and as advertised, with all the great Glock additions (i.e. cleaning brush, extra mag, mag-loader, lock) and a nice Glock case. I opened it up to inspect it and saw some copper gunk inside, and was worried there was something wrong william a
January 22, 2014
Excellent firearm. Quick delivery. I hope that buds can get XDs back in stock soon. Iannick B
September 2, 2013
Great gun, I am very happy with my purchase, thanks buds for fast shipping. gabriel g
August 31, 2013
very nice gun the Glock 20 sf 10 mm 15 t 1 love my new gun handels good and Buds took good care of me and my gun came in fast i wil by form Buds # 1 thank you all !!!!!!!!
Glock 20 Gen 3 PF2050203 Variations
Glock 20 Gen 3 PF2050203 Questions and Answers
Asked by
geoz48
4 years ago
There are differences. And I'm sure it will also void any warranty. Glock doesn't recommend it.
Asked by
geoz48
5 years ago
how many mags? I've seen this listed as 3, is it?
Gen 3 comes with 2 15 round mags
Asked by
geoz48
5 years ago
Yes it is Lance. This pistol is the SF model featuring a slimmer grip offering increased comfort and control, especially for people with smaller hands.
Glock 20 Gen 3 PF2050203 Price History