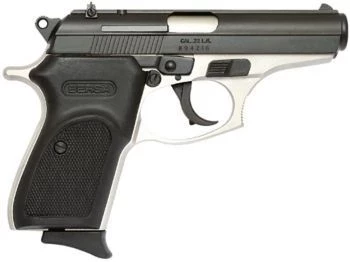 Bersa Thunder 22 Duo Tone T22DT
Brand New
About Bersa Thunder 22 Duo Tone T22DT
The Thunder .22 is BERSAs smallest caliber semi-automatic handgun. Made with the same care and attention to detail as all BERSAS, this lightweight, low recoil shooter is an asset to anyones gun collection. Important features like comfort, accuracy, durability and reliability will be found in this .22 LR handgun. For anyone needing practice to maintain proficiency or simply to have fun plinking, the Thunder .22 is economical to shoot - an important consideration with high ammunition prices. The Thunder .22 has trained generations of professional and sport shooters alike. Frame :Alloy Slide :Steel Front Sight :Blade Integral with Slide Rear Sight :Notched Bar Dovetailed Grip :Checkered Polymer
Bersa Thunder 22 Duo Tone T22DT For Sale
Specifications
| | |
| --- | --- |
| Category | Other Pistol |
| Action | Single/Double |
| Caliber | .22 LR |
| Capacity | 10+1 |
| Finish | Duo-Tone |
| Sights | Fixed |
| Barrel Length | 3.5" |
Bersa Thunder 22 Duo Tone T22DT Comparisons
Bersa Thunder 22 Duo Tone T22DT Reviews Gunblastdotcom
January 7, 2019
Gunblast.com - Bersa Thunder 22 Semi-Automatic Pistol
The Bersa Thunder 22 it's a good little pistol, it's so accurate, it's so light and it's very comfortable in you hand. It's a good look pistol, easy to shoot and easy for anybody to handle. Wasabi Worthington
January 7, 2019
Bersa Thunder 22 - Update
The Bersa Thunder 22 has lock that comes built into the gun so you get the special tool which works very well locking the device for fire and safe. This gun is feeding all ammunition more reliable and this is a wonderful firearm, it's fun to shoot and it Bersa Thunder .22lr overview and review.
The Bersa Thunder 22 it's a 22 long rifle double single action pistol and this pistol does have a magazine safety to be able to manipulate. The hammer make it go down when you pull the trigger or working double action. Everything on this pistol function f Gun Review: Bersa Thunder .22
January 7, 2019
DAN ZIMMERMAN
The pistol features an aluminum alloy frame and steel slide, and utilitarian black plastic grips. It ships with all the usual accompaniments: an instruction manual, one ten-round magazine. The Thunder has small sights whose modest stature belies their inh Modern Rifleman
January 7, 2019
Bersa Thunder 22 Review (2012)
The Bersa Thunder 22 is a hammer-fired DA/SA handgun. As such, the slide mounted safety functions as both a manual safety and decocker. The slide release is easily reached on the left side of the firearm, as is the button-style magazine release. The Thun As always Buds was great! Bersa Is one great firearm just make sure your ammo is at least 1255fpm for proper cycling. Great little gun. Ammo picky as stated by past reviews but the gun runs fine with CCI. Best price I could find for this gun. I have three Bersa Thender's , this .22, .380, and .45. This .22 has always performed exectly, if using good quality ammo. I had some cycling problems with Walmart Federal, but not with CCI nor Aquila. Really like the feel, especially since I have extra l ANGELO I
November 16, 2017
Lovely pistol. Shoots reliably with decent quality 22lr bulk ammo. Get cheap stuff and it wont cycle properly. Great old style feel to this pistol. Solid feel that polymer pistols don't have. Needs a little break in time to shoot 100%. Plenty accurate eno Jonathan V
September 12, 2017
Fast shipping. In my possession within 4 days of order. No problem with transfer. Range report: cleaned and lubricated. CCI MiniMags- 100 rounds. No feed failures, no dud rounds. Winchester SuperX- 100 rounds. No failures to feed 8 dud rounds. Remington Y This Bersa .22LR shoots well with CCI Minimags and Remington Thunderbolts. It does not cycle well with many of the lesser-powered .22LRs. This is a good-looking gun. After about 500 rounds, I'm thinking that this pistol may be a keeper. Bersa Thunder D22DT; Got this from Buds Gun Shop, took it apart, gave it a go over and did a clean and lube. Ran 200 rounds through it today, NO fails of any kind. Used CCI Blazer .22 lr. The feel of the pistol was about perfect for my hand, even my wi
Bersa Thunder 22 Duo Tone T22DT Variations
Bersa Thunder 22 Duo Tone T22DT Questions and Answers
Bersa Thunder 22 Duo Tone T22DT Price History