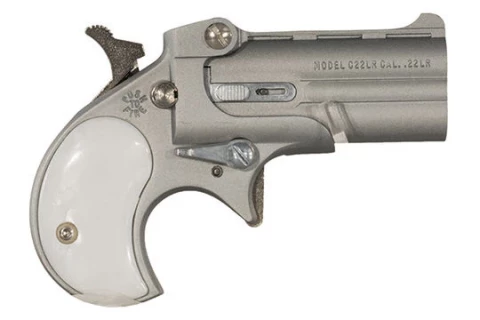 Cobra Classic Derringer C22SP
Brand New
About Cobra Classic Derringer C22SP
The Cobra Enterprises Derringer Pistol is small on stature but large on impact. A firearm classic, the Cobra Enterprises Derringer Pistol is a design influenced but Davis Derringer. Ready for action out of the box the Cobra Enterprises Derringer Pistol is ideal for self protection and concealed carry. The Cobra Enterprises Derringer Pistol fits nicely in a pocket and, for you ladies, is also a perfect fit for your purse. Specifications: Cobra Enterprises Derringer Pistol Model: Derringer Manufacturer Number: CB22N Fit: Right Hand Action: Derringer Caliber: 22 Long Rifle Barrel Length: 2.4 Inches Capacity: 2 Rounds Grips: Pearl Frame: Alloy Weight: 9.5 Ounces Sights: Fixed Finish: Nickel
Cobra Classic Derringer C22SP For Sale
Specifications
| | |
| --- | --- |
| Category | Other Pistol |
| Caliber | .22 LR |
| Capacity | 2 |
| Finish | Nickel |
| Sights | Fixed |
| Grip | Mother of Pearl |
| Barrel Length | 2.4" |
Cobra Classic Derringer C22SP Comparisons
Cobra Classic Derringer C22SP Reviews Dan S on
This little Derringer is affordable and shoots .22 short. The trigger is hard and not always responsive. A mini cannon! Took a bit to get it loosened up...working on it. Put some hollow points in her and she'll take care of business. Robert C
January 23, 2019
This little derringer was my first purchase from Buds. Really nice little gun, works just as it should. About 60 bucks cheaper than everyone else and best of all I received it 3 days after I purchased it. I ordered some kirinite grips for it that just set Hamilton B
September 1, 2018
The Cob Derringer is a cool little gun for a fair price. You have to practice good firearm handling when you handle such a small firearm. I had a lot of fun shooting the little pistol but the only drawback is the trigger pull and that took some of the fun I just wanted it in my collection I don't plan on shooting it. robert g
November 20, 2017
I love dealing with Bush's due to their professionalism and product. The pistol is well built and when shooting it, holds steady. What I would not recommend is buying this for your wife or daughter as a means of self defense. The trigger is extremely hard to push back and even after a few tries, it still too stiff for my d Several reviews on the internet have discussed the issue with getting the empty cartridge out of the pistol. That issue should be addressed by Cobra. The 22LR rounds almost do not fit in the upper barrel (cold without any rounds fired through it). The low I purchased this firearm chambered in .22 long rifle. Recieved firearm and it will not load .22 long rifle. Probably sending back to cobra. This is what i call a fun gun, it works and have not had any issues with it, But it has one heck of a trigger pull I love how this thing looks and feels in the hand, but not the way it shoots. I'm accustomed to shooting revolvers with heavy trigger weights, but this thing is a beast to pull down and back! I'll probably keep it for the collection... Scott U
February 27, 2013
bought this gun as a gift for my future wife, she loves it. Have not shot yet due to the ammo shortage. Gun has plastic grips and barrel release lever. Nothing to high quality but overall we both like the gun and I'm happy with my purchase.
Cobra Classic Derringer C22SP Variations
Cobra Classic Derringer C22SP Questions and Answers
Cobra Classic Derringer C22SP Price History