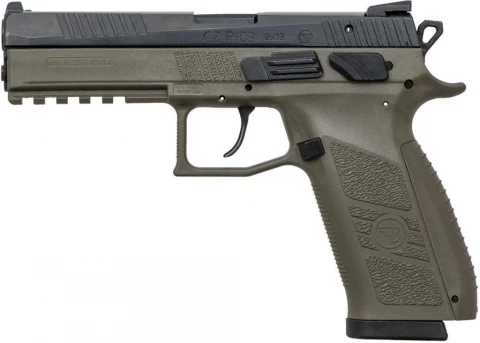 About CZ P-09 Duty
The P-09 is our full-size polymer offering, boasting an impressive 19+1 capacity in its flush-fitting magazine unsurpassed by any other 9mm service pistol. Featuring the versatile Omega trigger system, the P-09 is shipped with decockers installed but can easily be converted to a manual safety with the supplied parts and instructions. Also included are small, medium and large backstraps that allow the user to customize the pistols grip to their hand while retaining the natural point of aim that CZ handguns are known for. With an integrated 1913 Picatinny rail, the P-09 is readily adaptable to low-light situations. The Omega DA/SA trigger provides crisp single action trigger break, while providing the safety of a DA first-pull option.
Specifications
| | |
| --- | --- |
| Category | Rifles |
| Action | Single/Double |
| Caliber | 9x19mm Parabellum |
| Capacity | 19+1 |
| Finish | Black |
| Sights | Fixed |
| Barrel Length | 4.53" |
CZ P-09 Duty Reviews William H
December 28, 2018
William H on
Thanks to Bud's I now have 2 CZs. This is a great shooter, great trigger and no malfunctions. Flat shooting, comfortable, easy recoil, good natural pointer one or 2 handed. the first thing everyone remarked on was how light it was. slim and light enough for daily carry big enough for duty carry. Ordered the gun from Buds on Monday afternoon and it arrived at my FFL on Thursday afternoon. Fantastic delivery from Bud's. The fit and finish of the CZ p-09 was very good. Pristine to be more accurate. The sale price for this on Bud's was great. My only Excellence gun... It's a fun range gun and excellent for the home. Good Job CZ. Forrest J
November 28, 2018
Great pistol!
For the money one of the best deals in DA/SA pistols around. Good ergonomics...very accurate and holds 19 rounds in the magazine. Trigger reset is positive and I believe the trigger will smooth out with use. Yes it's a bit large for CC but can be done Grayson C
November 28, 2018
Cz p09
Haven't shot it yet but I really like it the price was great and fast shipping too. PSA is the best !!!!! Just what I wanted.
Was in the market for a full size/high capacity home defense firearm. Wanted the ability to mount a light. CZ quality shows through on this pistol. Don't hesitate to consider this one. Zackary C
November 27, 2018
The price was the best around. This was my first time purchasing a firearm online and they helped make it as simple as possible. Their layaway service was great even though I paid it in full a week later. The pistol is perfect plus it has glow in the dark Jason C
November 27, 2018
Can't beat it. One of the best full size hammered fired guns.. Phillip R
November 27, 2018
more fun than a glock. 1/2 the price. You can't go wrong. Be prepared to start buying all things CZ. Teddy E
November 27, 2018
So far I have run about 50 rounds through it. It shoot exactly where you put the front sight. I like large duty pistols. Hard to beat the 19t1 rounds. I also like a hammer fired pistol. Not quite my EDC but diffidently my bedside and truck gun. Over all v Mitchell M
November 20, 2018
First off Buds gun shop was super easy to deal with, thanks guys!!...Secondly I bought this because of the price and because I carry a P-07 which you all know is the small brother to this model. I have zero complaints and I love it is basically a clone to
CZ P-09 Duty Questions and Answers
CZ P-09 Duty Price History