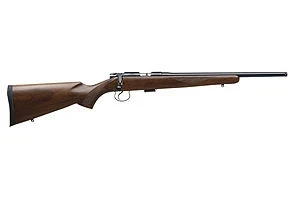 CZ 452 American Left Hand
Brand New
About CZ 452 American Left Hand
New In Box. Part Number:02017 Buds Item Number: 18236
CZ 452 American Left Hand For Sale
CZ 452 American Left Hand Comparisons
CZ 452 American Left Hand Reviews Anthony N
February 13, 2019
Anthony N on
At this time I have not yet fired my CZ 452 Left Hand but the product itself arrived quickly and as described from Buds. I love the gun and am very impressed with the wood and its finish. The safety is properly orientated for left handed shooters and easy Tim Thomas
August 29, 2018
I am also left handed and am tired of shooting right handed rifles. When the people at CZ start making the varmint rifles readily available in left hand I hope to own more than one! Extremely accurate rifle. Great build quality on stock and barrel. Trigger can be adjusted down to a 2 pound pull or less. The bolt action itself could be smoother but I think it will after a number of rounds. Add a 3 x 9 scope and you have one great rifl The CZ 452 American 22 lr left hand bolt rifle is outstanding in quality, performance and value. Buds provided an excellent purchasing experience. I will definitely recommend Buds.Gun shop. Beautiful rifle that is hard to find elsewhere. Very happy with the whole transaction and can't wait to go shooting with it. Thank for a wonderful purchasing experience. Glenn B
December 22, 2017
This rifle was recommended to me by a good friend. I am very glad I took his recommendation because I am totally please with its performance and quality of workmanship. I recommend CZ to anyone. Callum Mcwade
December 18, 2017
Aye I'm a young shooter in Scotland and I actually own a CZ452 and I'm over the moon with it,CZ's rifles scream quality and accuracy and that make very good target rifles, starter rifles to those who are new to the shooting sports (adult or child) and als The CZ 452 American left hand is the best all around deal out there if your looking for a hunting .22. I received my LH 452 .22LR in perfect shape and very fast from Buds with free shipping. I'm shopping Bud's first from now on in lieu of Gunbroker because of the free shipping. I'm right handed but I'm left eye dominant. Finding left handed bolt guns in s This rifle shoots very well! I tried it with CCI subsonic, CCI standard velocity, CCI MinMags, and Winchester '555 Rounds' bulk ammo. All shot nice tight groups, with the MiniMags shooting an all-shots-touching 5-shot group. I have not played with the t I received the rifle nad the next weekend, mounted a scope and went to the range. After sighting in at 100 yards, I shot two 5 shot groups that were .75 inches.. I am pleased with the rifle. The trigger could be a little better, but I'll try to lighten th I am very happy with the CZ 452 American 22 cal rifle. I was surprised at thow hard the bolt was to operate, however after putting gun oil on it and putting 200 rds through it it loosened up but still not an easy bolt throw. Very accurate rifle sighted it
CZ 452 American Left Hand Variations
CZ 452 American Left Hand Questions and Answers
CZ 452 American Left Hand Price History