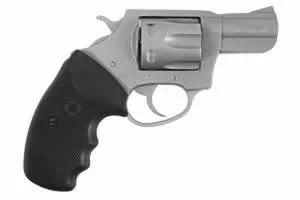 Charter Arms Undercover 73840
Brand New
About Charter Arms Undercover 73840
The Police Undercover takes a backseat to no one! Built on the same frame as the popular .44 Special Bulldog, it features the same styling and rugged construction as the classic Undercover. Weighing in at 20 oz., this 6-shot .38 Special sports a 2.2 bbl. The Police Undercover is compact, easy to shoot and draws and points effortlessly.
Charter Arms Undercover 73840 For Sale
Specifications
| | |
| --- | --- |
| Brand | Charter Arms |
| Category | Revolver |
| Action | Single/Double |
| Caliber | .38 Special |
| Capacity | 6 |
| Finish | Stainless |
| Gun Type | Revolver |
| Sights | Fixed |
| Barrel Length | 2.2" |
Charter Arms Undercover 73840 Comparisons
Charter Arms Undercover 73840 Reviews Aeaton873
September 8, 2018
nice gun at a good price with 4-pay why not?!?! Scoot on
I bought this gun from Sportsman's Guide after reading reviews on the web. I am not disappointed. It is a little bigger than the Smith Wesson j-frame, which I like because I have large hands. It is also a bit heavier, which dampens recoil. More than anyth This is the 3rd Charter Arms gun I've bought. I was attracted to the Police Undercover because it offers 6 rounds, instead of 5. It is also rated for +P ammo. The Police Undercover is slightly larger and heavier than the j-frame, which I like...the j-fram I've owned this for a little over a month now and can say after shooting a couple of boxes of 158gr. through it that I'm very happy with my purchase! I bought this Charter Arms revolver on the suggestion from a friend who bought the same one for his mothe GirlyGirl65
April 15, 2016
I'll freely admit it. I bought this because it was a cute, pink gun. Up until I saw the Charter Arms Pink Lady, I'd never fired a gun and was actually scared of them. Then on a trip to get my husband a gun, the pretty pink revolver caught my eye. We bough Theodore E
March 29, 2016
Compact, lightweight, and very shootable. It does hit below point of aim (3" at 15') but grouped decently and was very easy to shoot. It also has the advantage of the sixth round that many snubs don't come with now. GGood revolver for the money. . I bought this gun for my wife. I wanted a six shot instead of five and wanted a gun with some weight to it and a gun my wife would be comfortable with. This gun fit the bill on all counts. It was reasonably priced and buying from Budsgunshop was a pleas
Charter Arms Undercover 73840 Variations
Charter Arms Undercover 73840 Questions and Answers
Asked by
geoz48
4 years ago
Michael, there is no "Porting" on the 2.2inch Barrel of this Model.
Charter Arms Undercover 73840 Price History