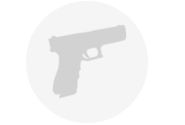 7.62x51 - 150 Grain FMJ - Ammo Inc. - 120 Rounds
Brand New
About 7.62x51 - 150 Grain FMJ - Ammo Inc. - 120 Rounds
Ammo Inc. is an American ammo company which typically manufactures and assembles all of their components in Arizona and Wisconsin. This 7.62x51 ammo is an exception, as it is loaded with primed and sealed military brass cases which Ammo Inc. purchased from ZSR A.Ş. in Turkey. But it still exhibits Ammo Inc.'s characteristic commitment to quality, making this ammo a cost-effective yet reliable solution for all your target shooting needs! Blasting steel and paper doesn't call for an overly complicated bullet. Ammo Inc.'s FMJ weighs 150 grains and is backed by clean-burning propellant so it can achieve a steady 2,600 fps muzzle velocity. The FMJ remains balanced for accurate flight by its concentric jacket and solid lead core, and its hard jacket works well to minimize bore fouling. That jacket also inhibits any kind of terminal expansion, making this ammo more suitable for target practice than it does hunting. These rounds' new brass cases will hold up to a semi-auto's rapid cycling and several handloading projects. This non-corrosive Boxer-primed ammo comes 120 rounds to a sturdy lidded plastic box.
7.62x51 - 150 Grain FMJ - Ammo Inc. - 120 Rounds For Sale
Specifications
| | |
| --- | --- |
| Brand | Ammo Incorporated |
| Category | Rifles |
| Bullet Weight | 150 Grain |
| Bullet Type | Full Metal Jacket (FMJ) |
| Ammo Casing | Brass |
| Quantity | 120 |
| Primer Type | Boxer |
| Muzzle Velocity (fps) | 2600 |
| Muzzle Energy (ft lbs) | 2251 |
| Attracts Magnet | No |
7.62x51 - 150 Grain FMJ - Ammo Inc. - 120 Rounds Comparisons
7.62x51 - 150 Grain FMJ - Ammo Inc. - 120 Rounds Reviews Precesion
Honestly there really isn't better .308/7.62x51mm! Feeds excellent. Holds tight groups. Really like the ammo can. I'll keep and use to store tools and throw in my truck.
7.62x51 - 150 Grain FMJ - Ammo Inc. - 120 Rounds Variations
7.62x51 - 150 Grain FMJ - Ammo Inc. - 120 Rounds Questions and Answers
7.62x51 - 150 Grain FMJ - Ammo Inc. - 120 Rounds Price History