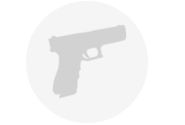 5.56x45 - 55 Grain FMJ-BT M193 - PMC - 1000 Rounds
Brand New
About 5.56x45 - 55 Grain FMJ-BT M193 - PMC - 1000 Rounds
PMC is gaining popularity in the US market and has now come out with their own 5.56x45mm NATO mil-spec M193 round. This M193 NATO 55 gr FMJ round is manufactured to mil-spec and offers great accuracy for your AR-15 with the added benefit of being more cost effective than many of the American manufactured brands. It is loaded to NATO specs and is NOT intended for use in commercial or bolt-action rifles chambered for 223 Remington ammo - but is is perfect for your AR15! Please check with your gun manufacturer prior to purchasing this ammo (most AR15's are fine, but it is best to check first!). Each round is brass-cased, boxer-primed, non-corrosive, and reloadable. It is both economical and reliable.
5.56x45 - 55 Grain FMJ-BT M193 - PMC - 1000 Rounds For Sale
5.56x45 - 55 Grain FMJ-BT M193 - PMC - 1000 Rounds Comparisons
5.56x45 - 55 Grain FMJ-BT M193 - PMC - 1000 Rounds Reviews Reliable ammo
Fast delivery, engaging follow up (targeted communication, didn't feel spammy) Range Friendly and Reliable
Bought 800 and have shot 300 rounds on my rifle, all rounds were accurate and gave no issues to my rifle, even mag dumping them! For today's prices, this ammo is above the rest.
I know in today's market ammo is crazy on price. But this was a good deal and I've already went through 500 rounds in my AR's. Very good shooting ammo and I will buy again. The customer service after buying from lucky gunner is outstanding! They foll WillandLiz
October 10, 2021
Great product
Good prices,great product,shipped and delivered fast very very happy husband Affordable and reliable
Shot many different loading through my rifle. This by far is the best in terms of quality control, and reliably. No matter the type of mag, or how dirty or clean the rifle is this ammo functions well even mag dump after mag dump Affordable and fast home delivery
Good ammo for my Tavar X95 Gen2. Good price. Fast home delivery. PMC makes great ammo
This is good stuff at a good price. I highly recommend. Great but to expensive
This ammo is great but really dirty. Had a lot of duds
I've had a lot of duds in my 1000. Over the course of shooting these 1000 rounds I've had about 30-40 rounds not go off. Early on I even sent my rifle back to the manufacturer just to check the firing pin was ok, but that wasn't the problem. The best 5.56 ammo i have shot.
Plain and simple. Malfunction free. Accurate, and clean. Loud bang, great ammo. Dont waste your money on anything else. best
i been using it few years now and Almost a 10000 rounds thru my AR no issue at all... Excellent Ammo
Good service, quick delivery and have run 500 rounds through my AR no problems. Have and will continue to recommend Lucky Gunner.
5.56x45 - 55 Grain FMJ-BT M193 - PMC - 1000 Rounds Variations
5.56x45 - 55 Grain FMJ-BT M193 - PMC - 1000 Rounds Questions and Answers
5.56x45 - 55 Grain FMJ-BT M193 - PMC - 1000 Rounds Price History