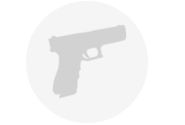 308 - 150 Grain FMJ - Tula - 20 Rounds
Brand New
About 308 - 150 Grain FMJ - Tula - 20 Rounds
This newly manufactured ammunition is PERFECT for target practice, range training, or plinking. It is both economical and reliable and is produced by one of the most established ammunition plants in the world. Tula ammunition derives its name from its birthplace, the Tula Cartridge Works in Tula, Russia. The Tula Cartridge Works plant was founded in 1880 and is currently one of the largest ammunition manufacturing plants in the world. The Tula name has gained a following worldwide for its rugged, reliable, and economical product. This cartridge complies with CIP requirements and the casing features a polymer-coated steel casing with a non-corrosive Berdan Primer. The projectile features a bimetal jacket (contains steel and copper) and a lead core resulting in excellent ballistics characteristics. This ammunition is rugged like the country where it was manufactured and keeps its qualities under temperatures ranging from -4 degrees Fahrenheit to 122 degrees Fahrenheit ensuring that it will perform when needed most. Muzzle Velocity: 2800 fps Max Pressure: 42,700 psi
308 - 150 Grain FMJ - Tula - 20 Rounds For Sale
Specifications
| | |
| --- | --- |
| Brand | Tula Cartridge Works |
| Category | Rifles |
| Bullet Weight | 150 Grain |
| Bullet Type | Full Metal Jacket (FMJ) |
| Ammo Casing | Steel |
| Quantity | 20 |
| Primer Type | Berdan |
| Muzzle Velocity (fps) | 2800 |
| Muzzle Energy (ft lbs) | 2612 |
| Attracts Magnet | Yes |
308 - 150 Grain FMJ - Tula - 20 Rounds Comparisons
308 - 150 Grain FMJ - Tula - 20 Rounds Reviews Not Worth The Risk
First off I didn't purchase this ammo at LuckyGunner, I bought it at my local gunshop. But I wanted to review it here so I could reach as many folks as I could... While shooting TulAmmo through my Ruger Gunsite Scout, the first 5 rounds or so went fin t-wrecks
January 31, 2017
keep looking. not worth the "savings"
I grabbed a few boxes of this brand for my Savage Scout so my older son could do some shooting. first 10 round mag went through without a hitch, but then a few shots into the second mag and there is a weird detonation and my son (whos 23 and no stranger t Would not reccomend
I bought this ammo some time ago to take out my employees for a range day. Less than 300 rounds fired through a clean M1a socom 16 there were 5 stove pipes & had to literally "KICK" open the receiver to eject the casing on 6 others. I cleane Pull trigger, goes down range.
Works great in my RUSSIAN steel eating rifles. Do not buy this brand
I purchased Tul Ammo in both 308 and 223 for my two rifles because it was cheap and I only wanted it for target range shooting. It was the worst purchase I ever made. The first time shooting and only after four shoots a shell stuck in my Savage rifle jamm pretty good!
Two boxes so far and no issues at all. 308 - 150 gr FMJ - Tula - 20 Rounds
This ammo is great to site your scope in with, without having to pay a lot off money to do so. It is also great to get out and shoot just for fun. Good Cheap Ammo.
Cant beat it for the price. I have fired 60 rounds of this ammo so far out of my C93 Sporter which is notorious for being very picky with ammo and i have not had 1 misfire or non eject with this ammo when i have with way more expensive ammo. so good deal. good but cheap
this is some of the best ammo i have shot for the price. yes its cheap you get what you pay for but i never had any problems. i fire this ammo out of my h/k 91 with no problems. accuracy is great. open sights at 200yds i can hit a 6x6 plate18 out of 20 rd Good for paper
Purchased 500 rounds (.308) from Lucky Gunner (You guys and gals are awesome). I've been through six 20 round boxes of this stuff and for range messing around it's o.k. Thus far I have had 4 rounds where the primer didn't ignite. As for accuracy anyth Not Exact what they say!!!
This ammo is good for plinking only. They advertise 2800 fps, but the 300 rounds that I have fire avg. 2580 fps. Also after firing 15 boxes of this ammo I had 15 rounds, avg 1 round per box, that had the primer seated to deep and would not fire. It not
308 - 150 Grain FMJ - Tula - 20 Rounds Variations
308 - 150 Grain FMJ - Tula - 20 Rounds Questions and Answers
308 - 150 Grain FMJ - Tula - 20 Rounds Price History