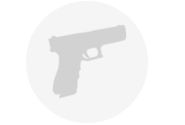 22 LR - 36 Grain CPHP - CCI Mini-Mag - 100 Rounds
Brand New
About 22 LR - 36 Grain CPHP - CCI Mini-Mag - 100 Rounds
This is the legendary CCI Mini-Mag of your childhood days. Newly manufactured by CCI, this bulk product is sure to provide many hours of fun. Each lead hollow-point bullet is gilded (coated) with a thin copper plating to reduce muzzle build-up and to help the bullet retain its shape during feeding (into the chamber), flight, and to some degree, impact. These are ideal for varmints.
22 LR - 36 Grain CPHP - CCI Mini-Mag - 100 Rounds For Sale
22 LR - 36 Grain CPHP - CCI Mini-Mag - 100 Rounds Comparisons
22 LR - 36 Grain CPHP - CCI Mini-Mag - 100 Rounds Reviews The best there is IMO
The best .22LR ammo there is IMO. Cycles well in all of my 10/22's, Bergara and Sig AR-22. Shooting 1" groups from my Browning T-bolt at 50yds and 1" groups at 75 yds from my CZ bolt action precision 22 rifle. Have stretched it out to 100 yards with 1 CCI 22 ammo
I like the hollow points. Good performance in my Ruger 10/22. Aviation
November 24, 2016
Outstanding from Lucky Gunner, as usual.
I ordered this CCI .22 ammunition early afternoon and it arrived FedEx the next day. ( I live locally near LG). My Grandson (age 11) and I went to the range that afternoon, and he burned up all five hundred rounds in his brand new .22 Mossberg Plinkste Excellent performance, excellent value
This was the first time using the Mini Mag in my new SW 22 and forgot how they operate a semi auto with authority and accuracy. The great customer support from Lucky goes without question. Favorite .22LR ammo in Browning Buck Marks
Always great performance with CCI Mini-Mags in my Buck Mark pistol and rifle. This is one round that's consistently reliable, which in .22 is rather wonderful. Great service
Very fast delivery, packaged very well, accurate ammo. Lucky Gunner shows you all the information you need to know about each product. Their videos are also very informative. Jam or failed to feed and some misfire
22 LR - 36 Grain CPHP - CCI Mini-Mag doesn't seems to like my Ruger sr22. Out of 200 rounds, about 10 jam and 2 misfire. 22 LR - 36 Grain HP - Winchester feeds better with my sr22 and seems to be cleaner. Awesome company
Have ordered numerous times from Luckygunner, always have ammo 2 days after ordering ! Plus prices are quite competitive . Who said there is a .22 shortage !? beside shipping ok
box were broken and 2 round bent (all loose in boxes) Very pleased to see this item back in stock
Very please to see this item back in stock. Arrived well packaged. I think this is high quality ammo. Was not available locally for some time. great product and service
I haven't had a chance to use the rounds yet but I know from past experiences that it's a good product. Also the service and shipping was great. Great ammo, fast delivery, excellent packaging.
This is very high quality ammo.
22 LR - 36 Grain CPHP - CCI Mini-Mag - 100 Rounds Variations
22 LR - 36 Grain CPHP - CCI Mini-Mag - 100 Rounds Questions and Answers
22 LR - 36 Grain CPHP - CCI Mini-Mag - 100 Rounds Price History