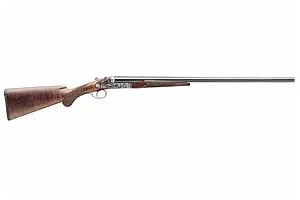 CZ Ringneck 201A Mini
Brand New
About CZ Ringneck 201A Mini
To meet the demands of American upland gunners, CZ has crafted a selection of side-by-side game guns unsurpassed in elegant grace and specifically designed for flushing birds.
CZ Ringneck 201A Mini For Sale
CZ Ringneck 201A Mini Comparisons
CZ Ringneck 201A Mini Reviews Daniel L
September 19, 2015
Daniel L on
It is very lightweight, and I like the 2" shorter barrels than on the newer CZ models. The 28 guage 201A is lighter and shorter than my .410 Winchester model 23, and is considerably smaller framed than my Winchester model 23 28 guage. The fact remains tho Very nice little gun. Had the CZ partridge 28 ga, and changed to this. The gun is very stiff and tight, It will take a bit of use to get it feeling smooth. The 5 chokes were well made. The wood was average, but the case coloring was nice. Gun does fit me Raymond H
October 26, 2012
I took this gun out this morning for the first time skeet shooting, I enjoyed every minute. I shot three rounds with no hiccups, very easy handling and the trigger was very comfortable I would say six pounds for each barrel. Lock up is very smooth for a d Love this little gun. Just had to have it! Don't tell my wife.
CZ Ringneck 201A Mini Variations
CZ Ringneck 201A Mini Questions and Answers
CZ Ringneck 201A Mini Price History