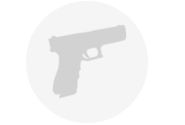 22 LR - 40 gr LRN - Eley Club - 50 Rounds
Brand New
About 22 LR - 40 gr LRN - Eley Club - 50 Rounds
Eley Club is a cartridge that is very well established in the market and is top choice for the club shooters who aspires to have their name at the top of record board. For those getting into the competition shooting, Eley Club is a great way to get started with reliable, accurate loads.
22 LR - 40 gr LRN - Eley Club - 50 Rounds For Sale
22 LR - 40 gr LRN - Eley Club - 50 Rounds Comparisons
22 LR - 40 gr LRN - Eley Club - 50 Rounds Reviews Not real accurate in my rifle
Great customer service and rapid shipping. Would definitely buy from lucky gunner again. 22's are finicky and unfortunately this Eley Club was not as accurate as other 22 ammo in my 10/22. Nice ammo shoots good.
Ordered on a Friday got it around 2 on a wensday which is today came super fast no hassle approved by me on the expensive side but its ok for bullets. Excellent 22lr ammo!
Have run over 200 rounds through a Ruger SR-22. No hang ups, no misfires. Lucky Gunner's website and customer service are exemplary, and delivery was very fast. This was not the cheapest 22lr ammo out there, but this was a very good value for the money. W Great plinker Ammo
No duds! Out of 50 rounds I found no duds. Good quality ammo. Great
I used all the well known sites for ammo, I have deal in firearms and it was still difficult, and the places that had it wanted so much for it. I guess I would try you guys out. I read some good reviews, I didn't have to click and add to my cart to find o so-so
Using a 10 round mag in a Savage 64, I had repeated hangups. The rounds simply didn't seem to have enough power to eject the brass and load another round in the chamber. I know it's only a .22lr, but the cartridges should be able to operate the semi, no outstanding deal thank you
I will keep shopping with you and hope I can run across more deals More please
Learned about you on Instapundit. Good quality. Good price. Good service. What could be better? You've made me a steady customer. they shoot good only a few didnt fire
I got my product vary fast the price was ok but after shipping I could of bought a Lot more .
22 LR - 40 gr LRN - Eley Club - 50 Rounds Variations
22 LR - 40 gr LRN - Eley Club - 50 Rounds Questions and Answers
22 LR - 40 gr LRN - Eley Club - 50 Rounds Price History