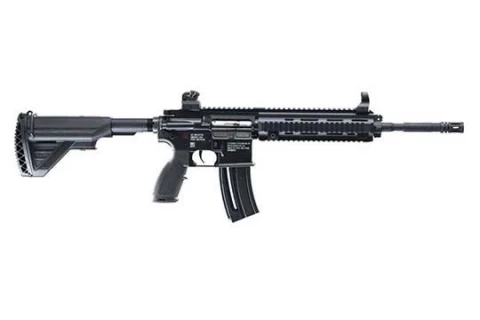 HK Hk416 5780301
Brand New
About HK Hk416 5780301
The HK 416 series rifle was designed for U.S. special forces as an alternative to the M-16 variant standard issue weapons. The 416 D145RS semi-automatic rifle features a quad rail forend, retractable buttstock with storage compartment, and a rail interface system which includes a fixed front sight with two different posts and a windage/elevation adjustable rear sight. This HK 416 D145RS semi-automatic rifle in .22 L.R. is manufactured exclusively by Walther under license from HK. It is the only genuine HK tactical rimfire replica available in the world.
HK Hk416 5780301 For Sale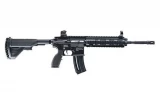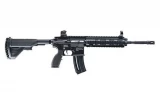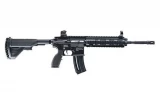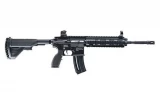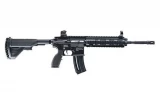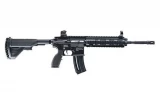 HK Hk416 5780301 Comparisons
HK Hk416 5780301 Reviews Vacuous B
November 30, 2018
I agree with Gregory L........
Without trashing it more than necessary, the barrel in this thing is so thin, it cracked as it connected to the receiver !!Maybe 50 rds, and all of a sudden no accuracy at all !Stick with a colt or S&W,...you'll be glad ya did ! Puckboy1971
November 4, 2018
Reality of the Scaled down rifles
There are so many people who don't understand the reality of scaling down a rifle.This is based on the HK 416, which is its own gun by rights. That being said, it does the best it can to replicate that gun. If you judge it by what it is meant to be, t GREGORY L
October 7, 2018
Total Junk
When you open this up, you are treated to a dizzying array of cheap metal, garbage plastic and utterly inane engineering. That's part of the reason why it has the insanely heavy trigger pull, and don't think you can fix that nightmare by replacing I wanted a rifle similar to that used by James Bond in "SKYFALL" during the closing firefight and found this one. Even though it's not a 5.56 caliber, I am pleased to have it in the .22LR. Shots great and Buds Gun Shop was so easy to assist me in the purc HK 416 D145RS .22LR made by Walther
If you want a plinker with that AR feel this is it.Solid performance.I've shot well over 800 rounds with only 1 jam but that could have been due to crappy ammo.Accurate well made AR feel if you can get this on sale for $299 buy it for your arsenal.... Michael L
October 5, 2014
Fantastic replica! A great .22 with the feel of a full grown AR15
HK Hk416 5780301 Variations
HK Hk416 5780301 Questions and Answers
HK Hk416 5780301 Price History